Firmenich Governance
A Family-Owned Company
A private company with a public governance, Firmenich values its independence and long-term view of the industry. That's why it operates according to the highest standards of international governance.
This operational excellence is represented by the high calibre of its international Board of Directors, led by Patrick Firmenich, Chairman of the Board, as well as its Executive Team, headed by Gilbert Ghostine, CEO.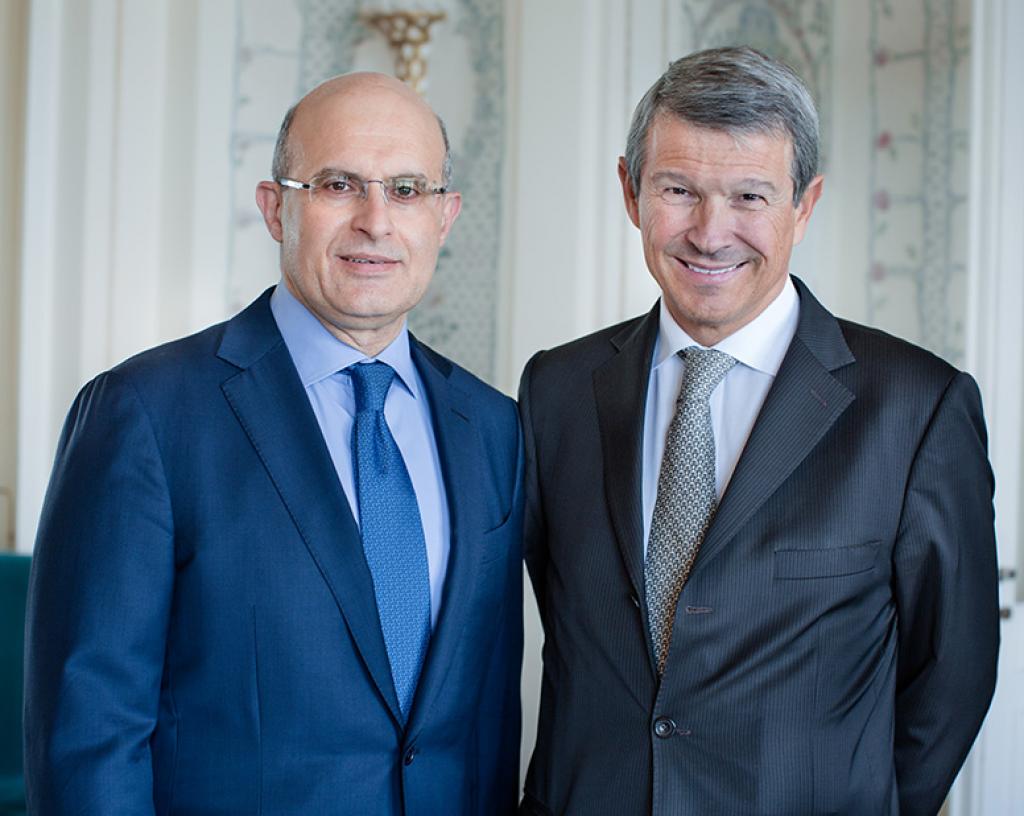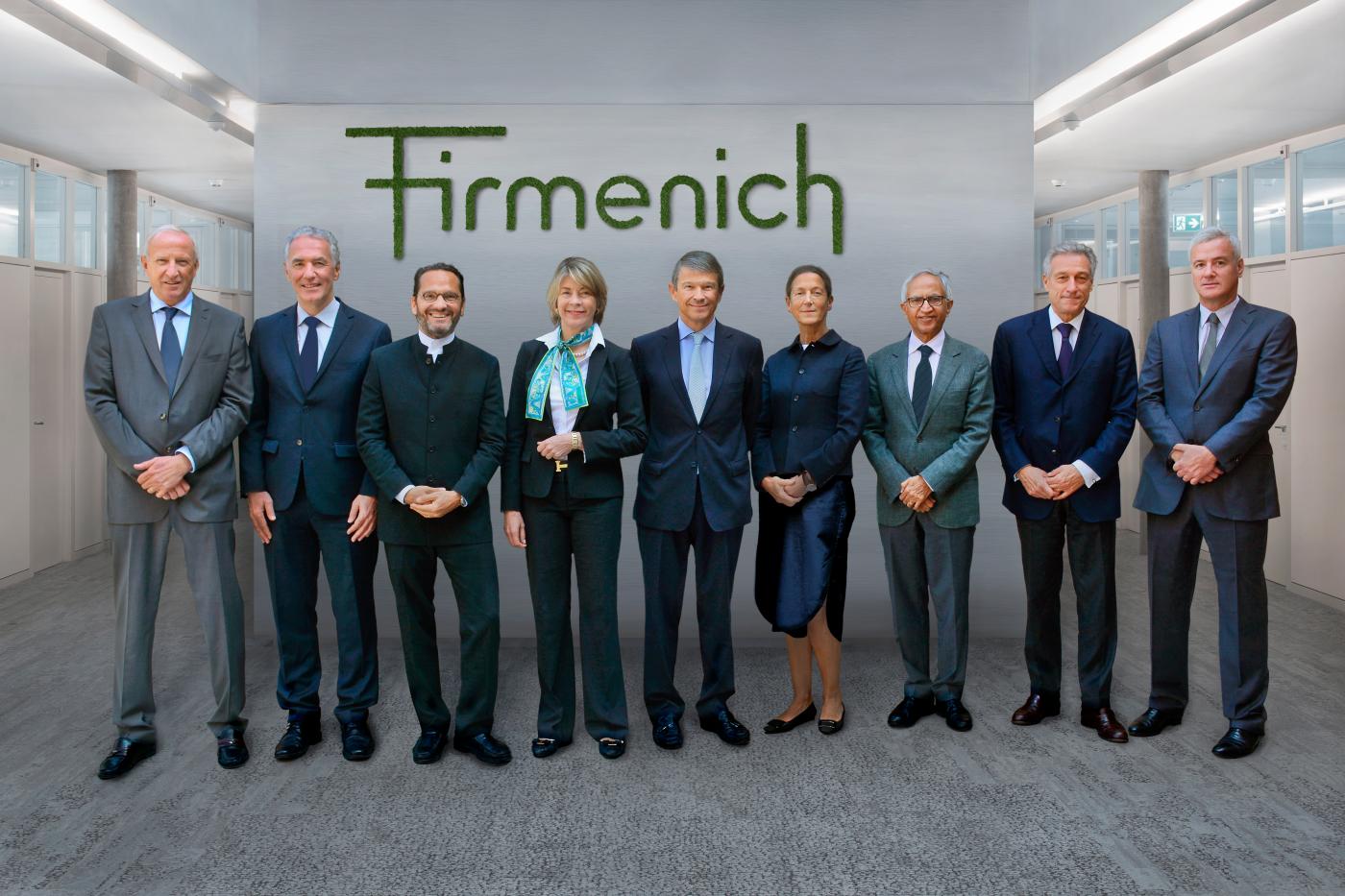 From left to right: Mr. Michel Firmenich, Mr. Richard Ridinger, Dr. Antoine Firmenich, Ms. Barbara Kux, Mr. Patrick Firmenich, Ms. Karen Jones CBE, Dr. Ajai Puri, Mr. Pierre Bouchut, Mr. André Pometta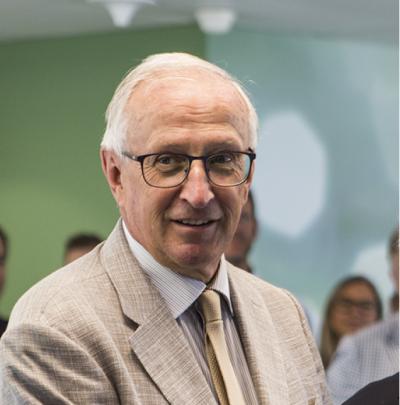 Mr. Michel Firmenich
Board Member
Member of the Nomination and Governance & Compensation Committees

Michel Firmenich joined the Board of Firmenich in 2013.

Michel Firmenich was appointed Chairman of Sentarom SA, the holding company of the Firmenich group of companies, in 2015 and continues to hold this position.

Prior to joining the Firmenich Board, Michel worked at Firmenich for 27 years successfully holding a broad scope of executive management roles within the company's Information Systems (IS) division. He served as Vice President, Head of IS from 2005 until his retirement in 2008.

Today, he is a Board Member of Ecole "La Découverte" SA in Geneva. He holds a BS in IT Management, from the University of Geneva's Faculty of Social and Economic Sciences.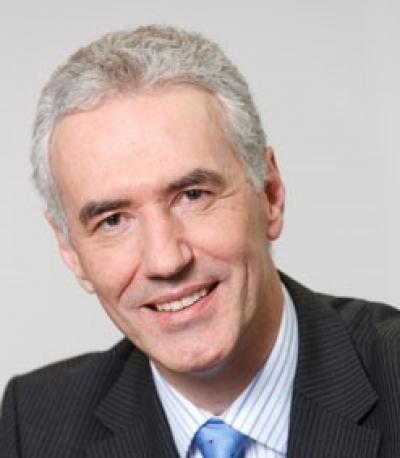 Mr. Richard Ridinger
Board Member
Member of the Governance and Compensation Committee

Richard Ridinger joined the Board of Firmenich in October 2016.

Richard Ridinger has extensive experience in science-driven organizations, most recently as the CEO of Lonza, a global leader in Life Sciences, until 2019. He strengthened Lonza's market position, driving competitive capabilities and productivity improvement in critical areas. Prior to Lonza, he was responsible for Care Chemicals, the largest group at Cognis, a former division of Henkel. A trained chemical engineer, his career spans process development, production management, product and marketing management of different product areas, as well as global business leadership.

Richard is currently Chairman of the Advisory Committee of Zentiva, a Board Member of WIRBCopernicus Group (WCG) and Evolva Group, a Member of the Advisory Group of NOVO Holding and a Member of the Supervisory Board of Brenntag AG.

He holds a Master's degree in Chemical Engineering from the University of Karlsruhe, Germany.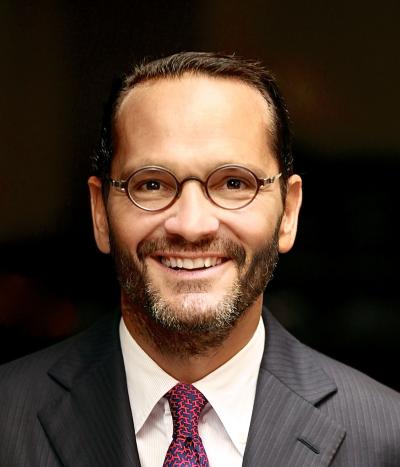 Dr. Antoine Firmenich
Board Member
Member of the Governance & Compensation and Finance, Audit & Risk Committees

Antoine Firmenich joined the Board of Firmenich in 2009. He was a Board Member of Sentarom SA, the holding company of the Firmenich group of companies, from 2004, serving as its Chairman from 2009 until 2015.

Since 2008, Antoine has been the CEO & Managing Director of Aquilus Pte Ltd in Singapore. He is a founding partner of Alatus Capital, a value investment management firm which works with preeminent global foundations, pension funds, and discerning long-term investors.

He previously worked at Firmenich in a number of roles including leadership of the Sweet Goods and Savory Global Business Units. He has also served on a number of corporate boards.

Antoine holds a BS in Life Sciences from MIT, a PhD in Biochemistry from Stanford University School of Medicine, US, and an MBA from the Stanford University Graduate School of Business.
Ms. Barbara Kux
Vice-Chairman
Member of the Nomination and Finance, Audit & Risk Committees

Barbara first served on the Firmenich Board from May 2008 to October 2011, then rejoined in 2013 and was appointed Vice-Chairman in 2016.

Barbara has over 30 years of experience in management positions with leading international industrial and consumer goods companies, shaving started as a management consultant with McKinsey.

In 2008, she was appointed the first woman to the Managing Board of Siemens AG, where she increased results from supply chain management and green technologies, following similar achievements at Royal Philips on the Group Management Committee from 2003 to 2008. As a member of the SDSN Leadership Council for the United Nations she contributed to the development of the UN Sustainable Development Goals (SDGs).

Barbara is currently a Member of the Supervisory Board of Grosvenor Group, Henkel AG & Co. KGaA, Pargesa Holding, SGS, and Total, among other companies. She is also lecturer for sustainability at the University of St. Gallen and Director for Corporate Governance at INSEAD.

She holds an MBA with Distinction from INSEAD in Fontainebleau, France.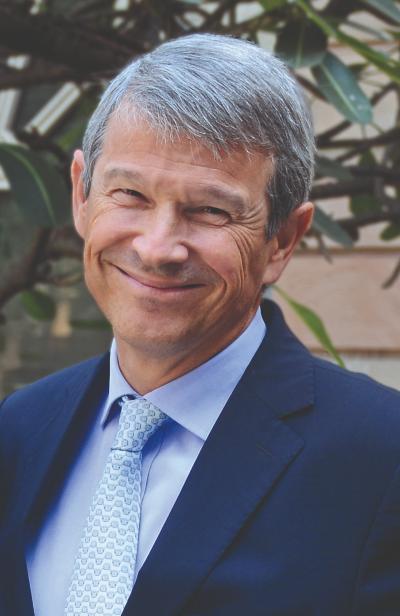 Mr. Patrick Firmenich
Chairman, Firmenich
Chairman of the Board since 2016

Board member since 2002

Patrick served as the Group's CEO for 12 years, from 2002 until 2014. During this time, he maintained Firmenich's leadership in Perfumery and Ingredients, while implementing a long-term vision for the Company's Flavors Business Unit. He also sustained above-average investment in R&D and legacy of game-changing technologies, while setting an ambitious sustainability strategy and leading the Group to achieve world-class HS&E performance.

Patrick first joined Firmenich in 1990, and spent a decade successfully leading the strategic development of the international Fine Fragrance business in New York and Paris.

Patrick is also a Board member of Jacobs Holding, INSEAD and the INSEAD World Foundation, as well as a member of the Advisory Council of the Swiss Board Institute. He is the winner of the 2020 EY Entrepreneur of the Year™ Switzerland award for Family Business.

Patrick holds a law degree from the University of Geneva and qualified as a barrister in 1987. He also has an MBA from INSEAD.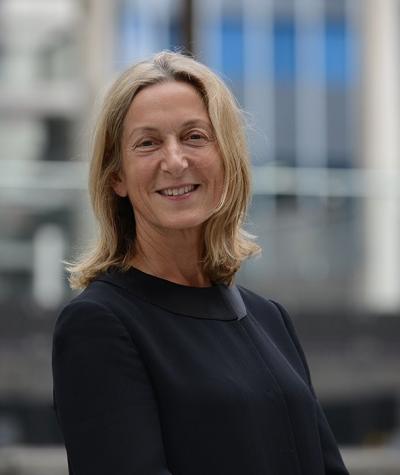 Ms. Karen Jones
Board Member
Chairman of the Governance & Compensation Committee

Karen Jones CBE joined the Board of Firmenich in 2011.

Karen is the founder and Chairman of Food and Fuel Ltd., a UK hospitality company specializing in gastropub restaurants, and has 30 years of experience in creating, developing, and leading restaurant and pub businesses across the UK.

Today, Karen is Executive Chairman of Prezzo, an Italian restaurant chain in the UK. In addition, Karen chairs Hawksmoor, Mowgli, and Frontier, a joint venture with ei Group/Stonegate Pubs, and is an investor in several hospitality concepts in London.

She was appointed to The Crown Estate in 2020 as a Commissioner. She chairs the Board of National Theatre Enterprises Ltd, sits on the Imbiba Advisory Board and is a Patron of the National Society for the Prevention of Cruelty to Children.

Karen holds a BA in English and American Literature from the University of East Anglia, UK, which also awarded her an honorary doctorate. She spent a year at Wellesley College, US.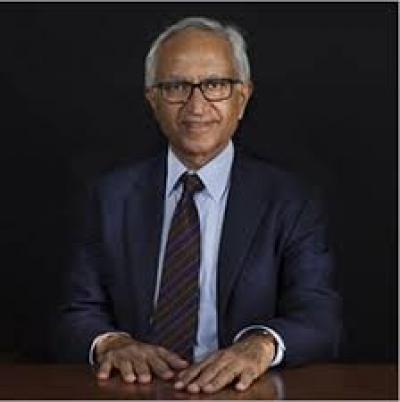 Dr. Ajai Puri
Board Member
Member of the Nomination Committee

Dr. Ajai Puri joined the Board of Firmenich in 2014.

Ajai served as Executive Board Member and President - Research, Development and Product Integrity from 2003 to 2007, at Royal Numico, a specialized nutrition company which is now part of Groupe Danone. He was responsible for developing and implementing a highly successful science-driven, consumer-led R&D strategy in the areas of early life and medical nutrition, and also served as Principal Crisis Management Officer. Previously, Dr. Puri had a 22-year career at The Minute Maid Company / The Coca-Cola Company in the US, in a variety of global positions.

Ajai currently holds non-executive directorships at Tate and Lyle PLC, a global provider of high quality ingredients to the food and beverage industries, at Britannia Industries Ltd, one of India's largest independent food groups, and Olam International, a leading global food and agribusiness.

Ajai holds a PhD in Food Science from the University of Maryland, US, and an MBA from the Crummer School, Rollins College, US.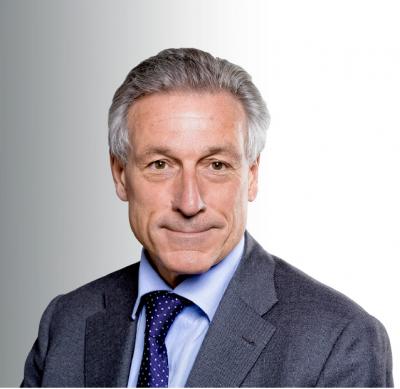 Mr. Pierre Bouchut
Board Member
Chairman of the Finance, Audit and Risk Committee

Pierre Bouchut joined the Board of Firmenich in 2016.

Pierre was the Chief Operating Officer for Europe and Indonesia and a member of the Management Board of Ahold Delhaize until January 2018. Prior to the merger of Ahold and Delhaize, he served as the Executive Vice President and Chief Financial Officer of Delhaize Group from 2012.

This followed an extensive career with Carrefour, amongst others as Chief Financial Officer and then Executive Director of Growth Markets, overseeing operations in Latin America, Turkey, India, Indonesia and Malaysia. As Chief Financial Officer at Schneider Group, Pierre developed numerous initiatives in structured finance, risk management and external growth, and was CEO of Casino group following a career in corporate finance.

Today, he is a Board Member of several companies including retail property investor Hammerson Plc and Albioma SA, which specializes in the production of "green" electricity. A graduate of HEC Paris, Pierre holds a Master's in Applied Economics from the University of Paris-Dauphine, France.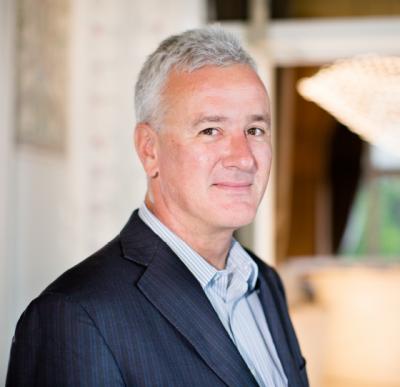 Mr. André Pometta
Board Member
Member of the Finance, Audit and Risk Committee

André Pometta joined the Firmenich Board in 2003. He was a board member of Sentarom SA from 2000 to 2008 and re-joined in 2014.

Since 2013, André has worked exclusively on innovative projects with inventors, successful entrepreneurs and executives. Prior to his current role, he worked at Firmenich in a number of leadership roles and was a member of the Flavors Executive Team from 2009 to 2013.

André joined Firmenich as an Assistant Fragrance Development Manager for Consumer Fragrance first in Geneva, and then in Australia. His management career spanned the Group's business on several continents, including the Asia Pacific region, North Africa & the Middle East, and Europe. After serving as President of Firmenich Aromatics Co in Shanghai, China from 2008, André was in charge of managing Firmenich's Beverage Base & Seafood extract businesses globally from 2011, and Savory in Europe. He started his career in 1997 with the Zuellig Group in the Philippines.

André is a Board Member of Smixin SA, a cleantech company, and Cluster1 SA, an animal health company. André holds a BS in Economics from HEC Lausanne, Switzerland.
From left to right: Mr. Eric Nicolas, Mr. Benoit Fouilland, Ms. Mieke Van de Capelle, Ms. Jane Sinclair, Mr. Gilbert Ghostine, Pr. Geneviève Berger, Ms. Ilaria Resta, Mr. Emmanuel Butstraen, Mr. Boet Brinkgreve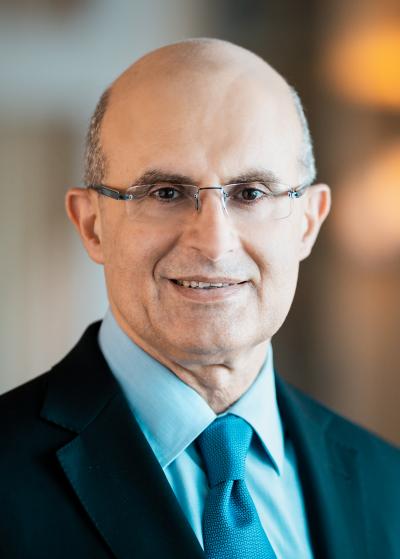 Mr. Gilbert Ghostine
Chief Executive Officer
Gilbert joined Firmenich in October 2014 as the Group's first non-family member CEO. Building on Firmenich's legacy of world-class research and creativity, Gilbert is firmly focused on shaping winning solutions for his customers to delight their consumers worldwide. Determined to enable more sustainable lifestyles, Gilbert places sustainability at the core of Firmenich's strategy. A champion of inclusive capitalism, Gilbert is committed to creating value for people, planet and society. Gilbert has a deep understanding of the Consumer Goods and Luxury industries, having spent over two decades with Diageo, leading its businesses and living across 4 continents. A Lebanese national, Gilbert is married with two children.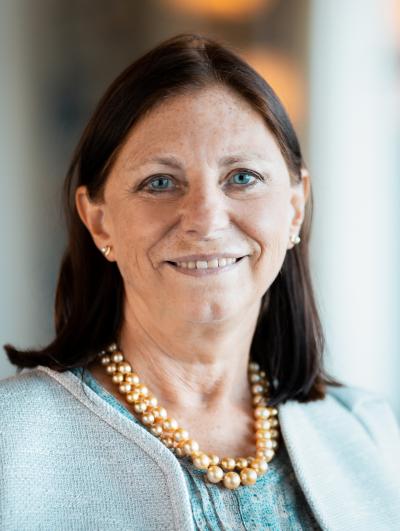 Pr. Geneviève Berger
Chief Research Officer
Geneviève is committed to driving Firmenich towards its next level of scientific excellence, building on the Group's legacy of world-class research. An internationally recognized science and business leader, Geneviève is passionate about improving quality of life through science. Prior to Firmenich her experience spans Chief Research & Development Officer at Unilever, leading the CNRS (26,000 employees) and Medical Doctor and Professor at the Hôpital de la Pitié-Salpêtrière in France. She holds three doctorates in Physics, Human Biology and Medicine, and currently sits, as a non-executive director, on the Boards of Astra-Zeneca and Air Liquide.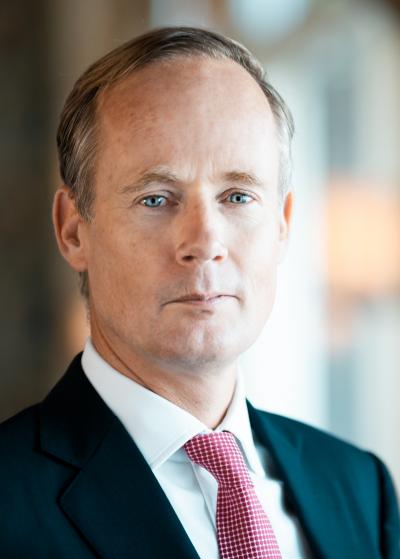 Mr. Boet Brinkgreve
President Ingredients
A seasoned global business leader, Boet has an outstanding track record of driving strategic growth at Firmenich since 2007. As President of Ingredients, he is responsible for strengthening the Group's leadership in naturals, biotech, biodegradable and renewable ingredients. Focused on driving the most competitive palette in the industry across Perfumery and Flavors, Boet leads the Group's end-to-end Ingredients business, spanning sales, portfolio management and industrial operations, as well as new business segments, such as adhesives, cosmetics and agriculture. He is also responsible for the strategic leadership of Purchasing, overseeing global sourcing, procurement and supplier collaboration. Previously, Boet held the position of Chief Supply Chain Officer, where he successfully made operations a key differentiator for the Group. Prior to joining Firmenich, Boet worked for DuPont in several senior roles, and ran various start-ups.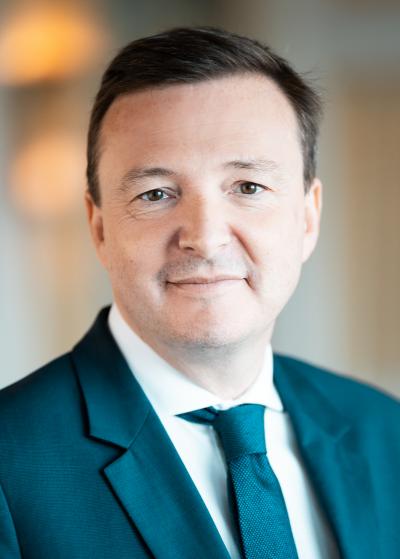 Mr. Emmanuel Butstraen
President Taste & Beyond
Emmanuel is committed to strengthening Firmenich's position as the global innovation partner of choice in taste and nutrition, leading growth across the Group's three segments: Beverages, Sweet Goods, and Savory. Creating winning solutions for our customers with a focus on enhanced well being, he is putting Firmenich's expertise to work making healthier choices taste great, from sugar, salt and fat reduction, to green protein and clean label offerings. Prior to Firmenich, Emmanuel was President of Solvay's Novecare GBU, preceded by 17 years with BASF, where he served as Strategy SVP of the Agricultural Products division. A French national, Emmanuel graduated as an Agricultural Engineer and obtained an MBA, both from the University of Lille.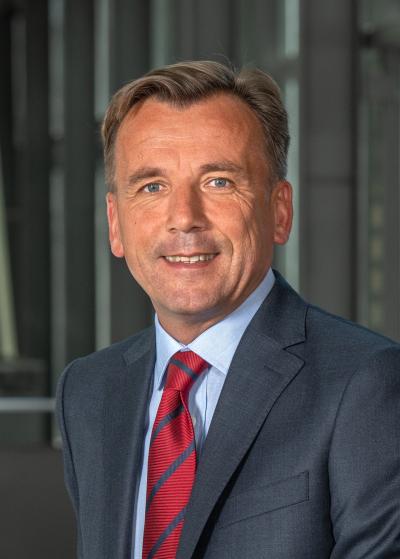 Mr. Benoit Fouilland
Chief Financial Officer
Benoit joined Firmenich as Chief Financial Officer in September 2020. He is responsible for leading the company's global finance organization and serves as Secretary of the Finance, Audit & Risk Committee of the Board of Directors. Benoit brings extensive experience of building and leading finance organizations at global technology companies, including Business Objects, SAP and Criteo. In his most recent role as Criteo's CFO he had a pivotal role in scaling the company through rapid growth and leading its highly successful NASDAQ IPO. Benoit is passionate about developing finance excellence to maximize company performance and enable sustainable business success. Benoit holds a Master's in Management from the ESLSCA Graduate School of Business in Paris, a Master's degree in Finance from Dauphine University in Paris and an MBA from INSEAD.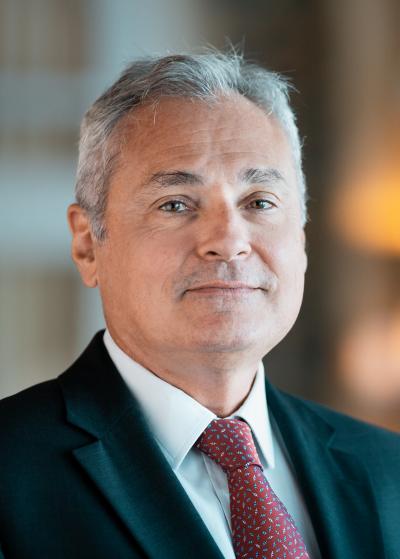 Mr. Eric Nicolas
Chief Operating Officer
Leading the transformation of the Group's business, Eric oversees best-in-class Finance practices and Governance, as well as Corporate Strategy & M&A, Digitalization and Information Services, Business Process Excellence, Global Workplace Solutions, Indirect Purchasing and Risk Management. A champion for sustainable Finance, he is a Board Member of the Livelihoods Carbon Fund, rated as "Best Corporate Offsetting Program" by the Voluntary Carbon Markets Rankings in 2016. Prior to joining Firmenich, Eric served as Senior Vice President, Corporate Controller and Group Strategy of the Renault Group in Paris, France.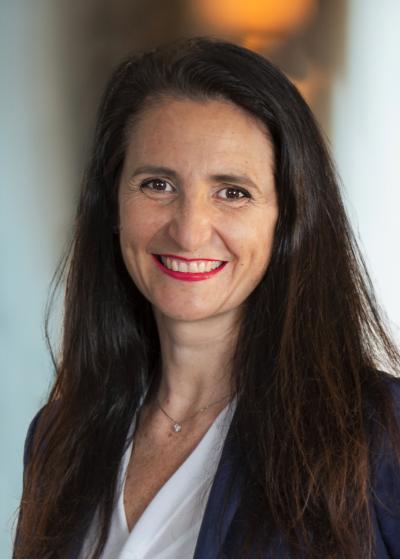 Ms. Ilaria Resta
President Perfumery
Ilaria was named President, Global Perfumery in March 2020, and is transforming our Fine Fragrance and Body & Home Care business. A passionate business leader with expertise in brand building, sales and P&L management, Ilaria has more than 22 years of experience with Procter & Gamble, building iconic brands such as Tide, Ariel, Fairy, Swiffer, Duracell, Pantene, Head & Shoulders, Herbal Essences and Aussie, across Europe, Middle-East, China and North America. Ilaria was recognized as 2020 Brand Builder of the Year in the US by WWD. Highly creative, collaborative, direct and positive, Ilaria believes in the power of people and partnership to drive breakthrough business results. When not playing tennis, skiing or travelling, Ilaria enjoys spending time with her husband and two children in Geneva.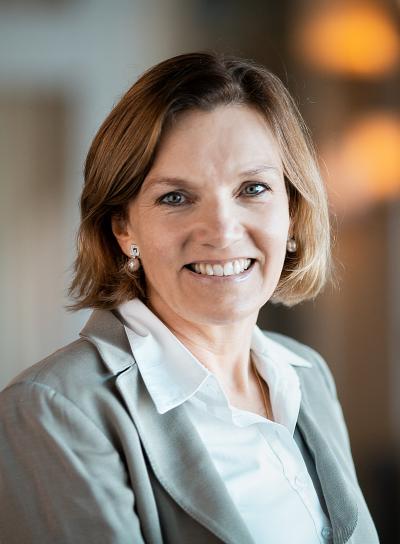 Ms. Jane Sinclair
General Counsel and Secretary of the Board
With extensive experience in emerging and mature markets – having lived and worked in Asia, Australia, USA and Europe – as well as in multiple industries, Jane is committed to building trust to last by conducting responsible business for present and future generations. In addition to being the General Counsel and Secretary to the Board, Jane leads the Legal & Compliance functions across our worldwide operations with direct oversight of Legal; Intellectual Property; Quality, Health, Safety & Environment; Regulatory; Business Ethics and Trade Compliance. Prior to joining Firmenich, Jane worked for 9 years in the pharmaceutical industry and spent the first 17 years of her career with The Coca-Cola Company.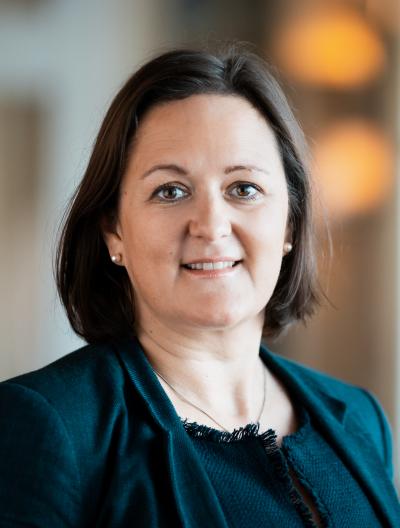 Ms. Mieke Van de Capelle
Chief Human Resources Officer
Mieke joined Firmenich as Chief Human Resources (HR) Officer in June 2016. She is responsible for leading HR, Communications and Sustainability, setting the strategy and winning culture as the most responsible family business in the Fragrance and Flavors industry worldwide. She is passionate about excellence in talent development and innovative people practices, rooted in a deep sense of social accountability. Under her leadership, Firmenich became the 7th company in the world to be certified by EDGE for workplace gender equality and received the Ethical Corporation Award for Diversity & Inclusion. A seasoned HR leader with over 20 years of experience, Mieke has worked and lived across Europe, the US and Asia, and has held senior HR positions at Sara Lee Corporation, Perfetti Van Melle and Electrolux.